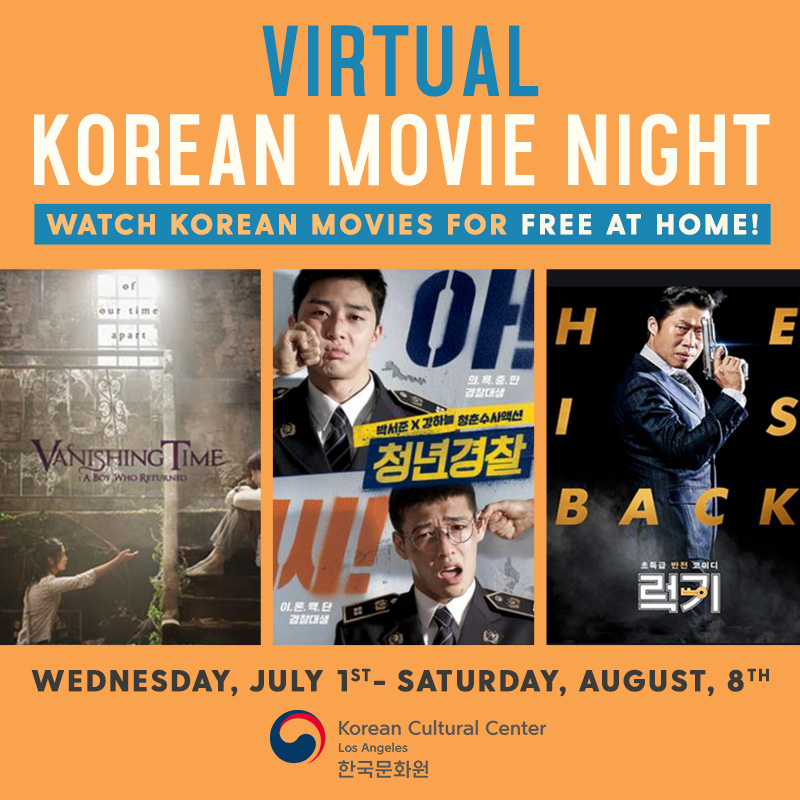 Virtual Korean Movie Night (July)
Cinema
Wednesday, July 01, 2020
To get the free links to the movies, please click here
---
Vanishing Time: A Boy Who Returned
(Ga ryeo jin si gan)
Director: Um Tae-hwa
Cast: Gang Dong-won, Shin Eun-su, Lee Hyo-je, Kim Hui-won, Kwon Hae-hyo
Running Time: 129min
Genre: Fantasy
Release Year: 2016
Rating: Film intended for audiences 12 and over
(Underage audiences accompanied with a parent or guardian is allowed)
13-year-old Su-rin moves to a remote island with her stepfather when her mother passes away. She befriends Sung-min, an orphan boy who truly understands her. One day, they venture into a cave in the forest with a group of kids and discover a glittering egg which, according to their local folktale, hold a time-eating monster; a monster that can instantly turn a child into an adult. Su-rin tries to stop them, but the boys take the egg out of curiosity. When she follows them out of the cave, she finds that her friends have disappeared. The police assume that this is an abduction case and begin their investigation. Su-rin tells the police about finding the egg, but nobody believes her. Later, a mysterious man in his 30s shows up and tells Su-rin that he is Sung-min.
Midnight Runners
(Cheong nyeon gyeong chal)
Director: Kim Ju-hwan
Cast: Kang Ha-neul, Park Seo-jun, Sung Dong-il, Park Ha-seon, Jung Da-eun
Running Time: 108min
Genre: Action/Comedy
Release Year: 2017
Rating: Film intended for audiences 15 and over
(Underage audiences accompanied with a parent or guardian is allowed)
Forget the sense of duty and justice! Two apathetic police academy recruits who become best buddies through the tough training together witness a woman being abducted right before their very eyes. As they were taught in the academy, they quickly report the incident to the police, but the police are in no hurry to jump on the case. So the duo decide to take the matter into their own hands and rescue the woman.
Luck-Key
(Leok-ki)
Director: Lee Gae-byok
Cast: Yoo Hae-jin, Lee Joon, Jo Yoon-hee, Yim Ji-yoen, Jo Han-cheol
Running Time: 120min
Genre: Action/Comedy/Crime
Release Year: 2016
Rating: Film intended for audiences 15 and over
(Underage audiences accompanied with a parent or guardian is allowed)
Hyung-wook, an infamous assassin known for his perfection, he slips on soap at a public sauna and passes out. Jae-sung, a not famous unknown actor who's hit rock bottom, witnesses the accident and switches his locker key with Hyung-wook's. Jae-sung opens the locker to find the key to a fancy car which leads him to a luxurious condo along with the full wealth and secrets of a successful hit man. On the other hand, Hyung-wook wakes up with amnesia. And the only clue he has for his identity are the outstanding payment bills. With the help of a paramedic, he finds his (actually Jae-sung's) place discovering that he's a totally broke nameless actor. While Hyung-wook struggles to remember, he tries to 'continue' his life as an actor. And by irony of fate, with the help of real-life action moves that his body is used to, he soon becomes the new action hero on TV. And with the continuous shooting of the action sequences, his memory starts to return.