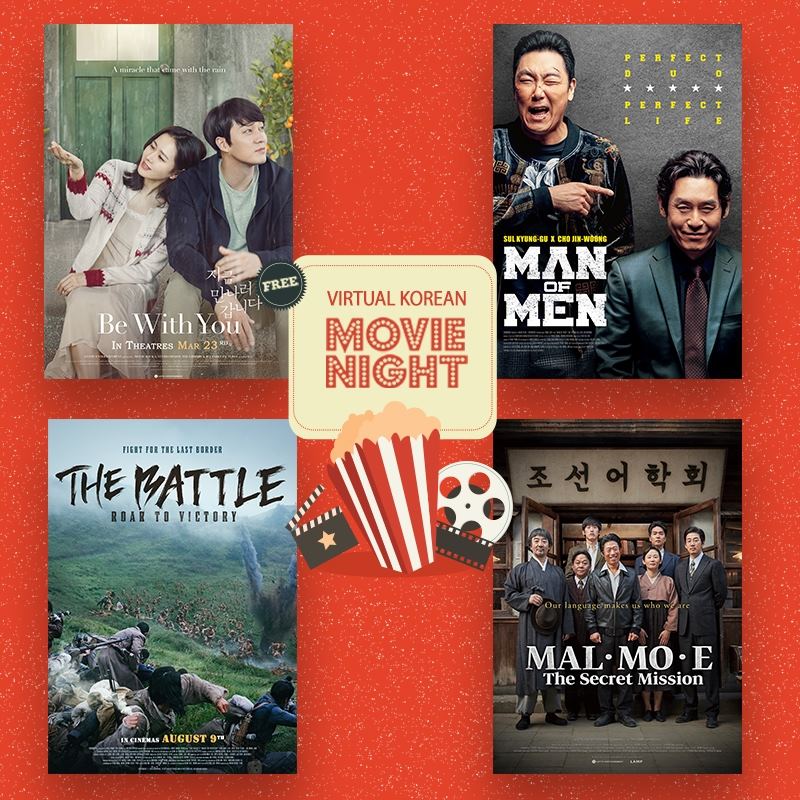 Watch Korean Movies For Free At Home!
Cinema
Tuesday, April 28, 2020
To get the free links to the movies, please click here
---
BE WITH YOU
Director: LEE JANG-HOON
Cast: SON YE-JIN, SO JI-SUP, GO CHANG-SEOK, LEE YU-JIN, KIM HYUN-SOO
Genre: ROMANCE
Release Date: April 6, 2018
Runtime: 131 minutes
Rating: Film intended for audiences 12 and over
Woojin (So, Ji-sup) takes care of his son Jiho alone after his wife Soo-A (Son, Yejin) passed away. Before she passed away, she promised she would be back on a rainy day one year later. One year later on a rainy day, Soo-A appears again but she does not remember anything.
---
THE BATTLE: ROAR TO VICTORY
Director: WON SHIN-YEON
Cast: Yoo Hae-jin, Ryu Jun-yeol, Jo Woo-jin, Kazuki Kitamura, Hiroyuki Ikeuchi
Genre: WAR/ACTION
Release Year: 2019
Runtime: 135 minutes
Rating: Film intended for audiences 15 and over
Based on the Bongo-dong battle in 1920, which is remembered as the greatest victory of the Unified Korean Independence Army versus the Japanese Army.
In 1920, when Korea is under Japanese rule the Korean Independence Army's Hae-chul (Yu) and his subordinates are carrying out the operation to deliver funds to the Korean Provisional Government in Shanghai. During the operation Hae-chul is reunited with Jang-ha (Ryu), a young squad commander, whose mission is to defend Samdunja. They unite and trap the Japanese soldiers in Samdunja, soundly defeating them. Now they're chased by Japanese troops and Hae-chul finds out that Jang-ha's mission isn't over yet. A crucial yet dangerous task is still assigned to him…..
---
MAN OF MEN
Director: Yong Soo
Cast: Sul Kyoung-gu, Jo Jin-woong, Huh Joon-ho, Jin Seon-gyu, Kim Sa-rang
Genre: COMEDY
Release Year: 2019
Runtime: 117 minutes
Rating: Film intended for audiences 15 and over
"If I die naturally, beneficiary gets paid $1.2. If I die because of an accident, beneficiary gets paid $2.7. You help me out and I'll make you my beneficiary"
"Youngki", a gangster dreaming of a life changing jackpot - embezzles $700,000 of his boss's money and invests into supposedly "slam-dunk" stocks....it was a total scam and he losses them all. Now he needs to come up with $700,000 somehow or he's a dead-meat. Then, he runs into a cocky hot shot lawyer, Jangsu, whose got a late stage cancer with only two months to live.
Jangsu offers Youngki the life changing jackpot Youngki always dreamed of - becoming the beneficiary of his death benefits in exchange of helping him out before he dies...
A humorous chemistry between an arrogant and cocky rich lawyer and a dumb-headed gangster will blow you away this fall!
---
Mal-Mo-E
Director: Eom You-na
Cast: Yoo Hae-jin, Yoon Kye-sang, KIM Hong-pa, Woo Hyeon, Kim Tae-hoon, Kim Sun-young, Min Jin-woong
Genre: COMEDY/DRAMA/HISTORY
Release Year: 2018
Runtime: 135 minutes
Rating: Film intended for audiences 12 and over
Imprisoned several times during the 1940s, when Korea was under Japanese occupation, Kim Pan-Soo is illiterate and does not know how to read or write Korean or any other language. The teaching of Korean in the schools is banned by the Imperial government. He meets a representative of the Korean Language Society and join forces to publish a dictionary of the Korean language.