Korean Movie Night:Along With the Gods: The Two Worlds
Date: Thursday, April 25, 2019
Time: 07:00PM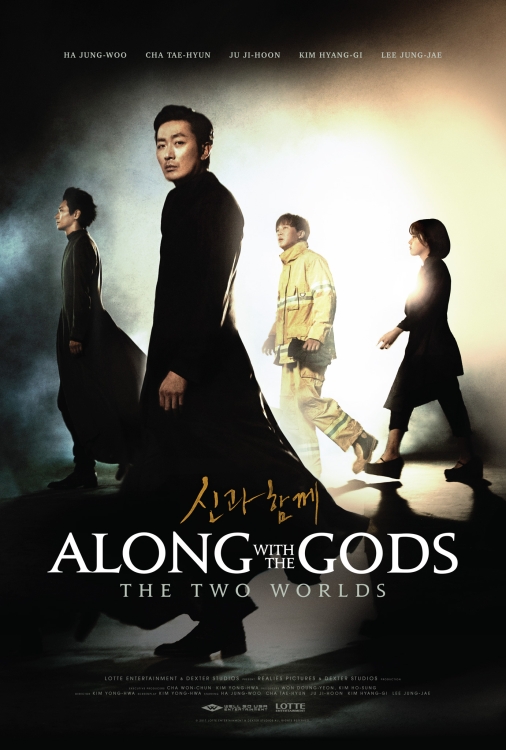 Story of the death of an ordinary firefighter named Kim Ja-hong (Cha Tae-hyun) and three grim reapers, Gang-rim (Ha Jung-woo), Haewonmak (Ju Ji-hoon) and Lee Deok-choon (Kim Hyang-gi) who escorts Ja-hong to the afterlife, where he will be assigned a public defender to represent him in 7 trials in 49 days to find out how he lived his life and where he ought to spend the rest of eternity.[16][17]

In the first court Ja-hong was tried for deserting his colleague in a fire accident. He was about to be sentenced when the grim reapers argue in his favour proving that he deserted his colleague only as per the instructions of the victim to save other people endangered. In the process Kim Ja-hong had saved the lives of 8 unknown people at the cost of one life of his colleague. The judge of the trial frees the convict and they move to the second court.

In the second court, Hell of Indolence those who whiled away their life in laziness and inaction are punished. Kim Ja-hong has not wasted any time and is about to be freed while he bluffs into saying he worked for the sake of money. He was about to be punished while Gang-rim argues on his behalf that he made money only to help his suffering mom and his younger brother. His act was taken as selfless and was freed.

He makes it through Hell of Betrayal, Hell of Deceit. Meanwhile Ja-hong's younger brother, Soo-hong, gets killed in the living realm and becomes a vengeful spirit. Gang-rim leaves to the living realm to find out the cause and to destroy the vengeful spirit.

At the Hell of Violence, it is found out that Ja-hong beat up his younger brother despite of his malnutrition state. The punishment was imminent while Gang-rim through Lee Deok-choon buys time by requesting a combined trial at the last Hell, Hell of Filial Impiety. Kim Ja-hong was proved guilty at the Hell of Filial Impiety and while the final verdict was read out, his younger brother's spirit, now under the custody of Gang-rim gets into her mother's dream. There, they realise their mom was aware of the happening during the act of violence and has forgiven them.

The judge at the Hell of Filial Impiety announces that the acts truly forgiven in the living realm need not be punished again in the afterlife and grants reincarnation to Kim Ja-hong.

Thus the guardian trio had helped their 48th soul get reincarnated, they need to help one more to gain reincarnation. Film ends with Soo-hong turning out to be the 49th soul to be guided by the trio.