ONLINE
K-Story Book Report Contest
Date: Fri, Jan 29, 2021 - Fri, Feb 26, 2021
Time: 09:00AM - 05:00PM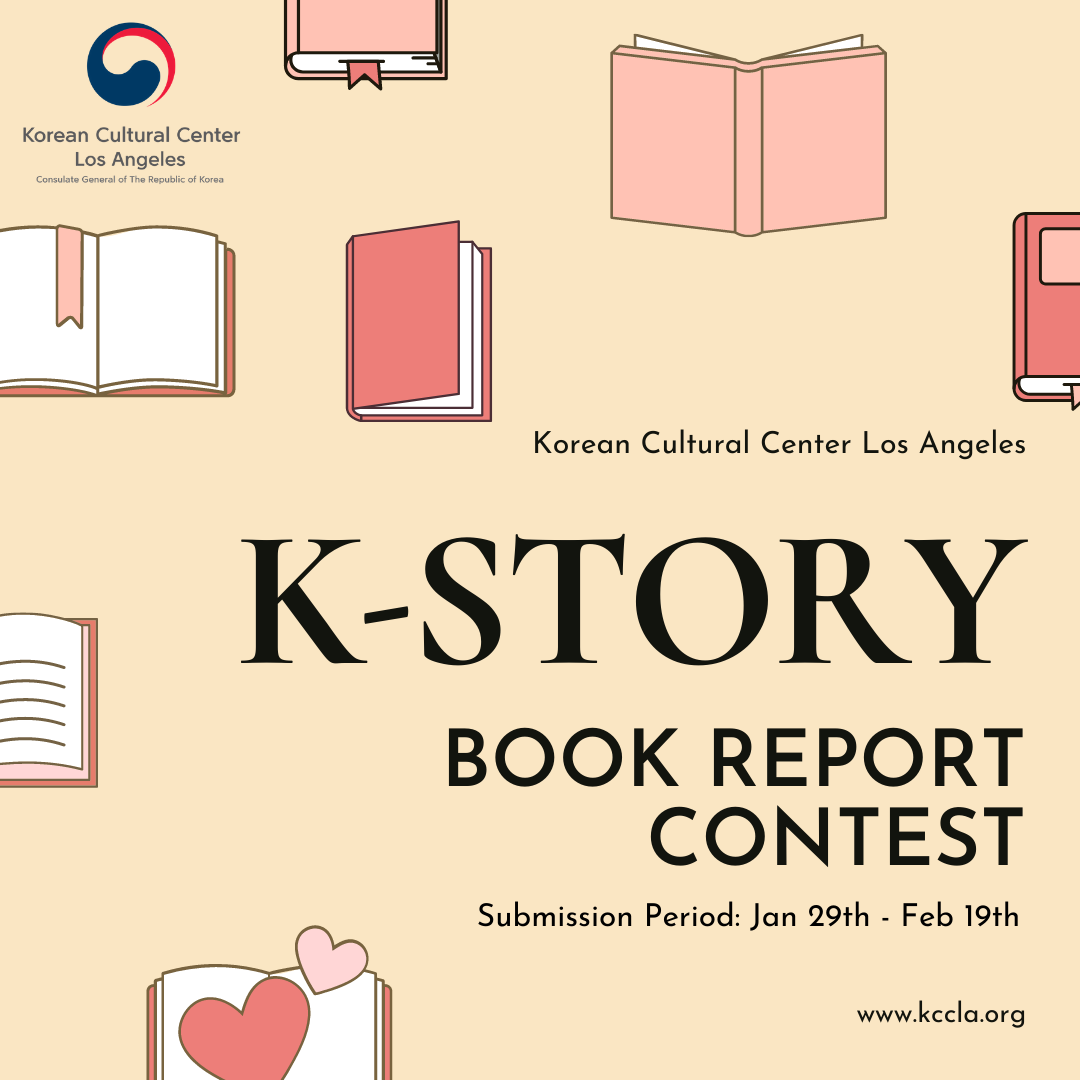 ▶ Title: K-Story Book Report Contest
▶ Submission Period: January 29th - February 19th, 2021 - Winners will be announced on March 5th, 2021 (Friday)
▶ Website: www.kccla.org, www.instagram.com/kccla, www.facebook.com/kccla
▶ Host: Korean Cultural Center Los Angeles
▶ More information: Joyce Sir, at 323-936-7141(x131) or joyce@kccla.org


To start the new year, Korean Cultural Center, Los Angeles (KCCLA) has organized a fun contest for K-12th students: K-Story Book Report Contest.

With interest in the Korean language and culture steadily rising, KCCLA launched a new project using traditional Korean folktales popular amongst young children in Korea. Like many folktales and fables, Korean folktales (jeon-rae-dong-hwa) feature stories about people and animals and even teach morals suitable for people of all ages. Korean Cultural Center LA has translated the folktales and illustrated the pictures so that even those who cannot read Korean can enjoy these stories.

Using KCCLA's K-Story Korean folktale stories as a reference, students will submit a book report. Each report will fall into four categories: K-3rd, 4th-6th, 7th-9th, 10th -12th.

1. Where do I watch the video?
a. There are eight videos on the KCCLA YouTube channel under the playlist 'K-Story: Korean Folktale.'

2. Which story do I choose?
a. You can select any of the eight stories!

3. What do I write?
a. K-3rd grade students: Draw a picture of their most memorable scene from the story, and write a sentence or two about the story.
b. 4th-12th grade students (two options) (length: 500-800 words)
i. Summarize the story, figure out the moral, and use it to relate to their own life.
ex) "With the help of friends, you can overcome anything."
- The Rabbit and Tortoise ?
ii. Tell us your impression of the story and compare it with a similar western story.
ex) Kongji Patji vs. Cinderella

4. How do I send it in?
Please email your report to joyce@kccla.org
- Email title: K-Story Book Report_your name

The winners will be chosen from each of the four groups. Each winner will win a Korean Culture Award from the Director and receive a $100 Amazon gift card.

Everyone can watch the "K-Story: Korean Folktale" on the KCCLA YouTube channel.

For more information, please email joyce@kccla.org.